Description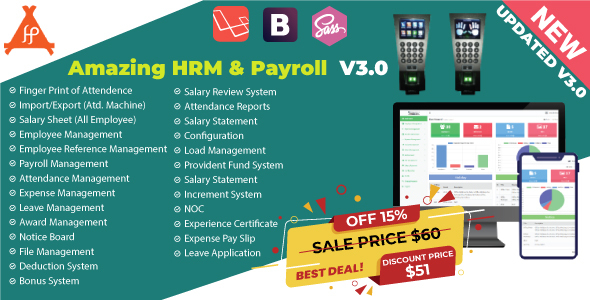 Click on live Demo link here: https://amazingsoft.live/amazing-hrm-payroll-v3/

This application based on new Latest Laravel 7.0 Framework. Human Resource Management system(HRM) & Payroll has become one of the most important tools for any corporate environment. It's very easy for any kind of businesses and helps to keep the HR & Payroll department clean and clear. Amazing HRM & Payroll software is not just a visualize it's now become an essential software for maintaining every corporate office. Any company can use it for their regular tasks, employee workforce management and account management.
Amazing HRM & Payroll is designed latest security Technology and it is ready for high availability web application.
Documentation
For documentation Go here: Documentation
You can view a demo installation by following this link: Installation Demo
You can view a demo by following this link: Live Demo
Admin:
ID: [email protected]
Password: demo
Admin Live Demo
Employee:
ID: [email protected]
Password: demo
Employee Live Demo
Features:
Integrated the Finger Print Attendance Machine
Import/Export the Finger Print Attendance File
Salary Sheet
Bonus, Credit Facility, Salary Deduction and provident fund management
Employee management
Attendance management with report
Employee Attendance report
Customize salary Statement
Complete payroll management with report
Award management
Leave management with report
Employee role management
Notice board management
Holiday management
Complete expanse management with report
Fully HRM Management
Fully Payroll Management
Create Salary Template monthly
Employee Clock Attendance
Manage Time Change Requests
Attendance Reports
Create Leave Category
Set Leave Quota
Approve / Reject Leave Applications
Create/Delete Department
Create/Delete Designation as required
Employees Add, Update, Delete or Block
Set Employee Access Roles
Employee Awards
Award Money
Give Gift Itemst
Employee Get Notified
Easy User Interface
Beautiful Dashboard
Very Easy Setup and Installation
Easy Tab Interface And Many More
Team management
Informative dashboard
File sharing and team conversation
Task management
Beautiful file preview and comments
Invoice management
Save PDF any report
Expense payments report
Custom permissions for team members
Event calendar
Private notes
Leave management
Employee details view
Announcement/notice management
Report printing and export
Easily accessible UI
NOC
Leave Application
Experience Certificate
Expense Slip
Step 01: Open and start the Attendance Machine Software

Step 02: Click the OK Button

Step 03: Select the Device and Click the Connect in the software

Step 04: Create All Employee Records like Enrollment or Registration

Step 05: After recorded, must be Upload and Download from left Button

Step 06: Select the report for calculatation by date wise.



Step 07: View the attendance reports by the dates

Step 08: Export the Attendance Report

Step 09: Save the Attendance Report in your PC

Step 10: Export the Attendance Report in your HRM Software

Manage the Device of Attendance Machine
Step 01: Setup the Attendance Machine by IP

Step 02: Select the User Management in the Machine

Step 03: Go to the All User Management

Step 04: Select the One User and go

Step 05: Select the finger for print by the user