Description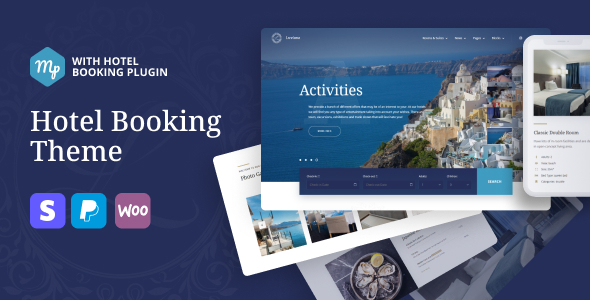 Luviana Hotel Booking WordPress Theme Highlights
Automate your vacation rental business with Luviana, clean and elegant design for hotels and vacation rental homes. This hotel booking WordPress theme is designed specifically for various hospitality establishments such as hotels, guest houses, bed and breakfast booking, bnbs, hostels, resorts or inns; multiple accommodations or a single one.
The Luviana theme is powered by the MotoPress Hotel Booking plugin – an all-in-one property reservation system for your WordPress hotel site. This plugin ensures that your guests will be free to check the availability of your hotel rooms online and book them in real-time with instant payment or pay after arrival.
With Luviana, you'll have no limits as to property presentation, online payment processing or operational management. You can accept unlimited bookings and provide services to unlimited clients without any commissions. The Hotel Booking plugin includes property management software, website builder, channel manager, booking software, payment processing, and many more essential tools.
Clean and beautiful, Luviana is deeply flexible in terms of customization at the same time since you can edit its design not just in the native WordPress block editor, but with any other popular page builder like Elementor.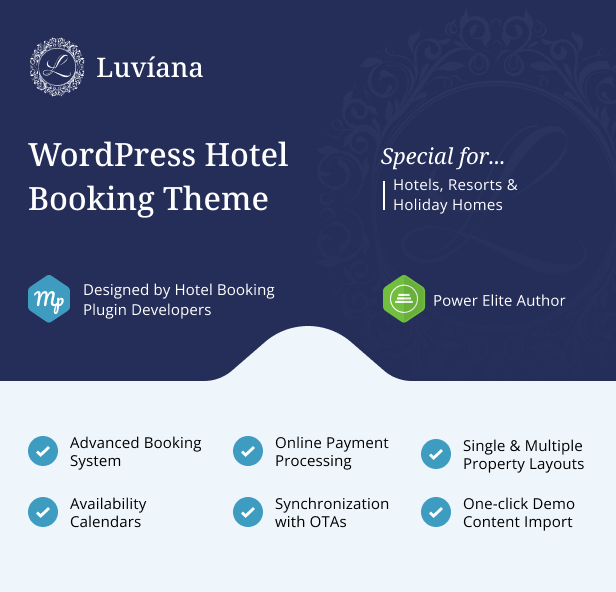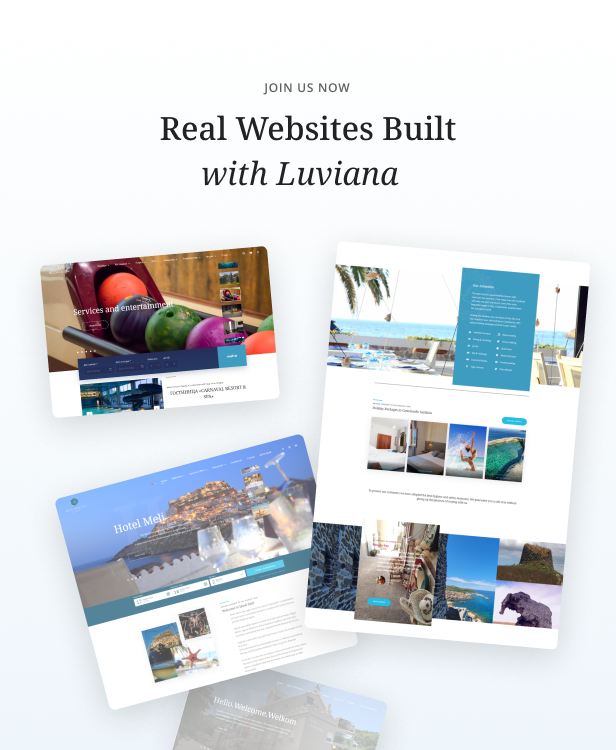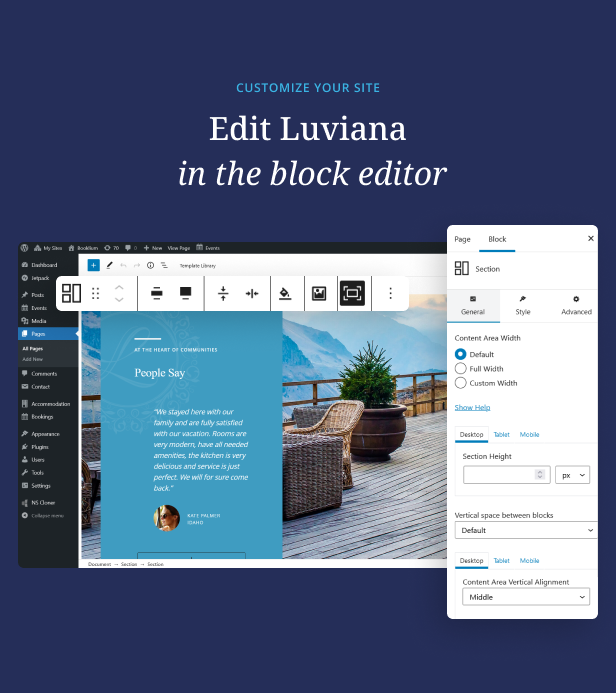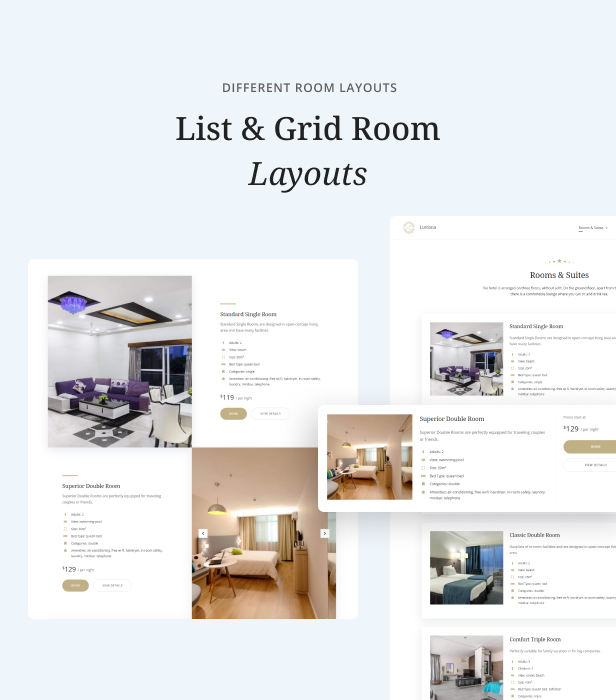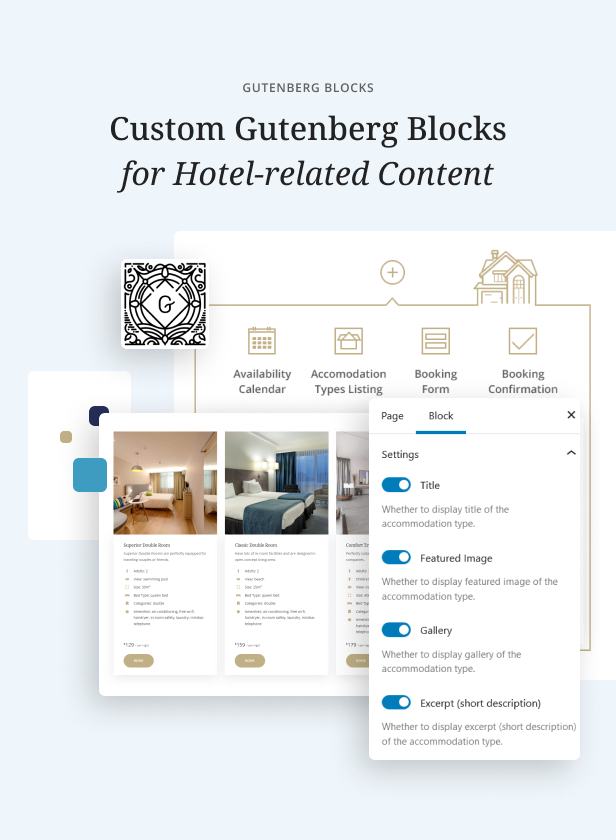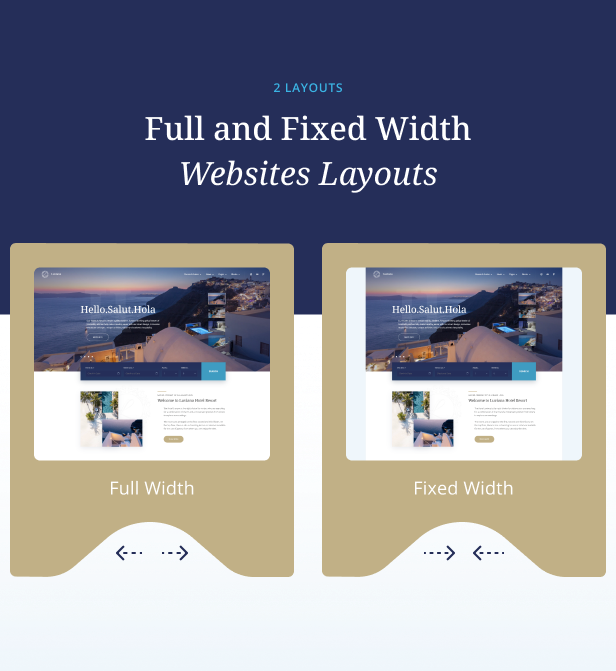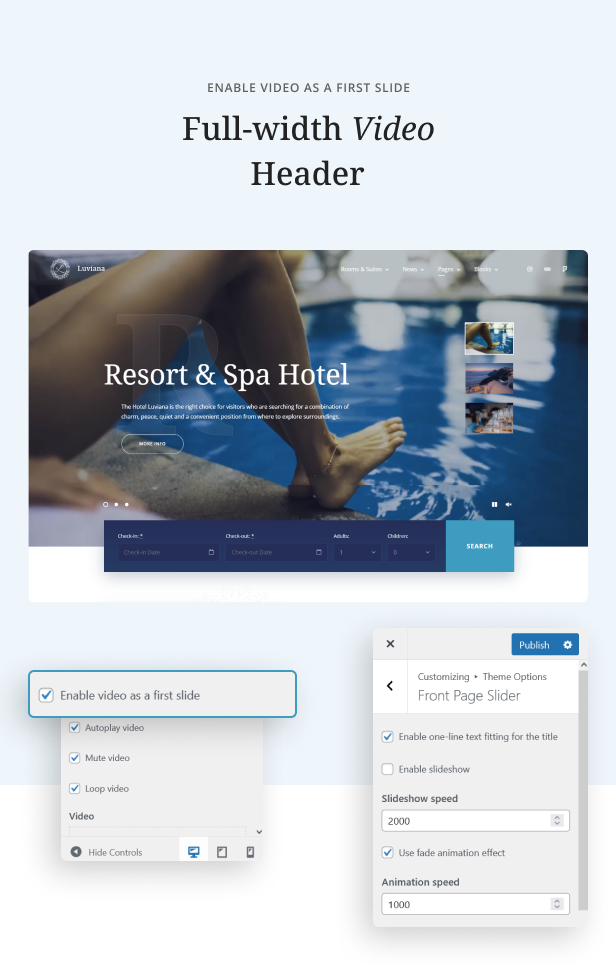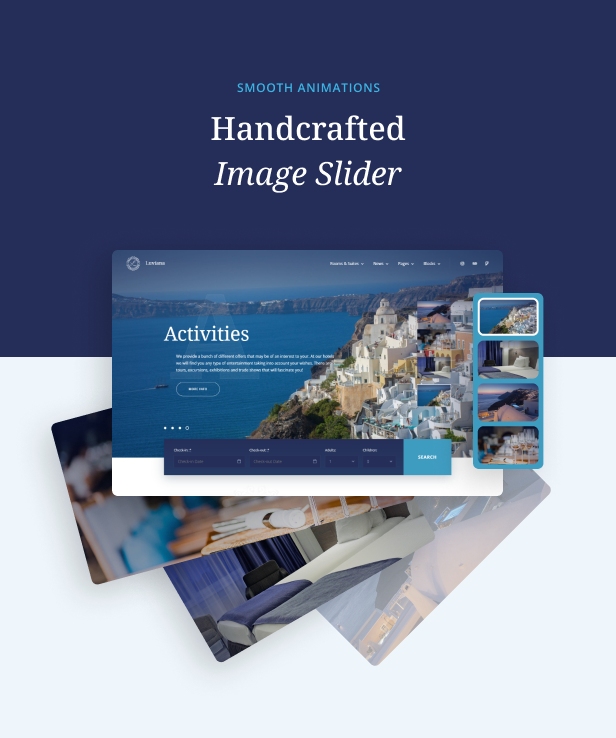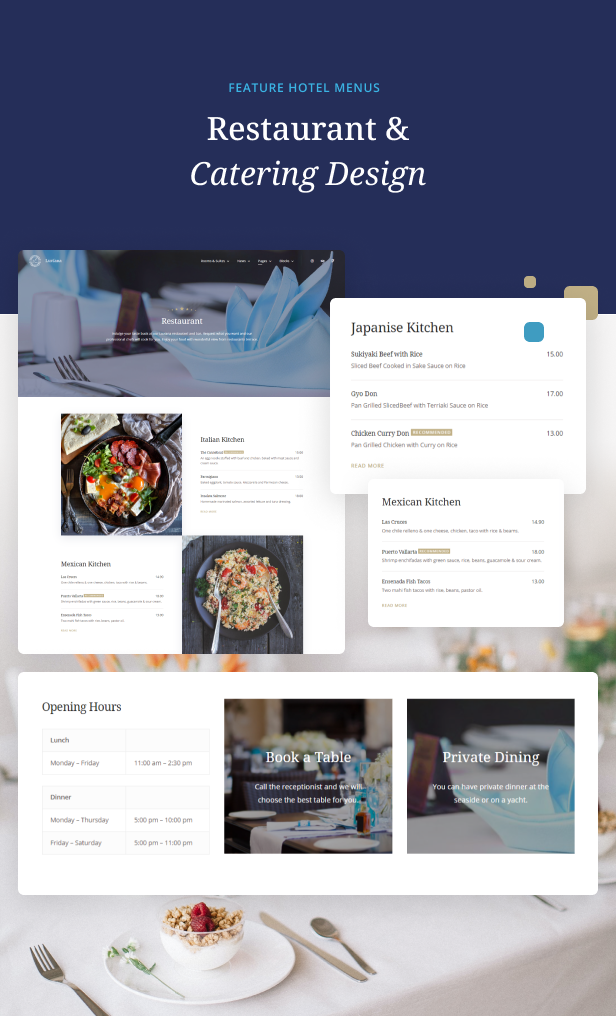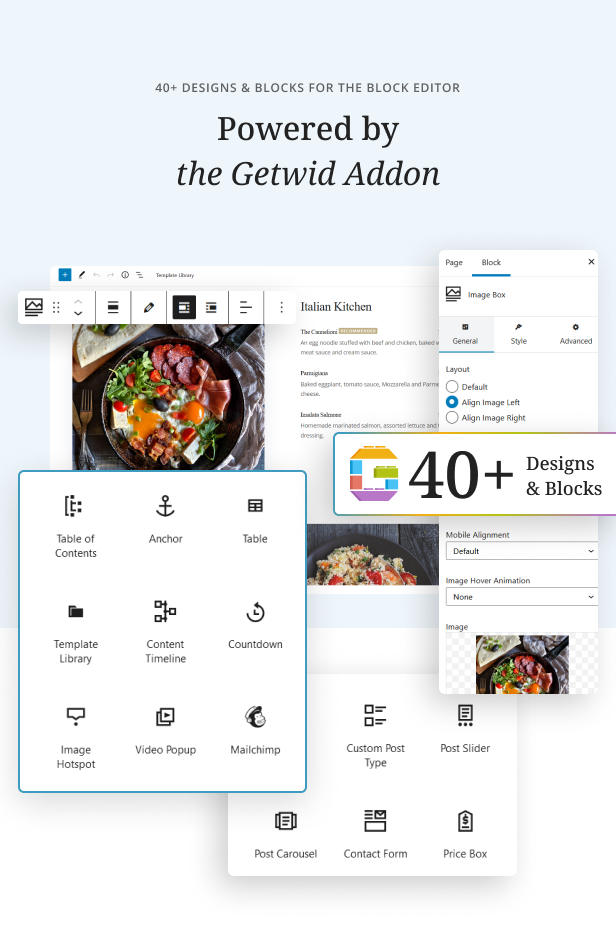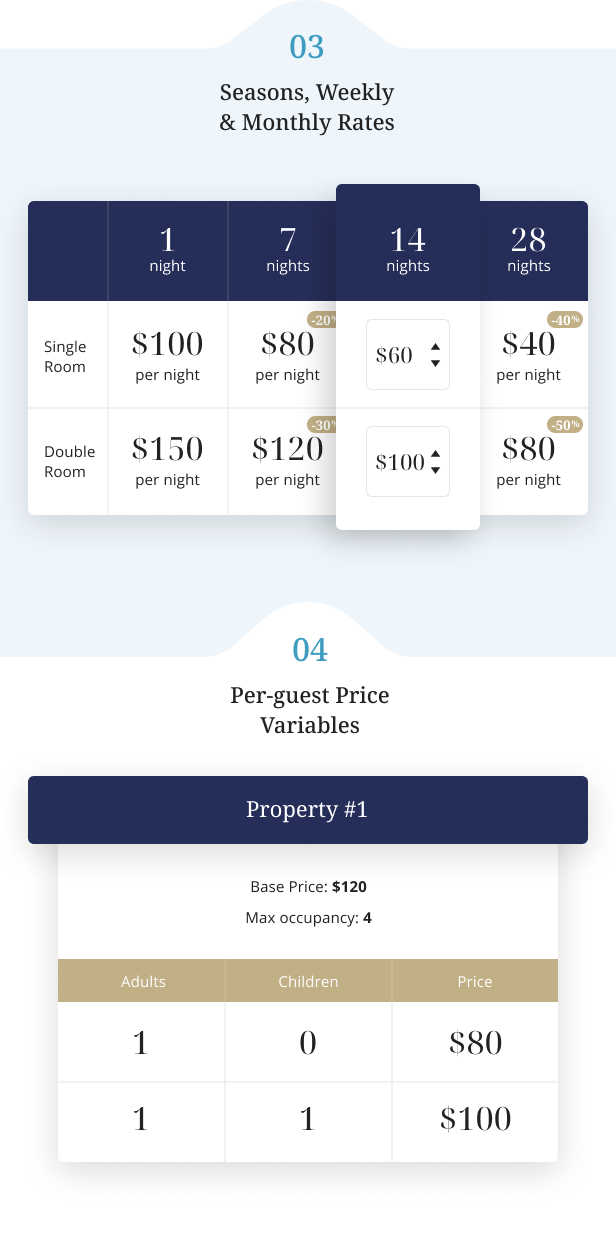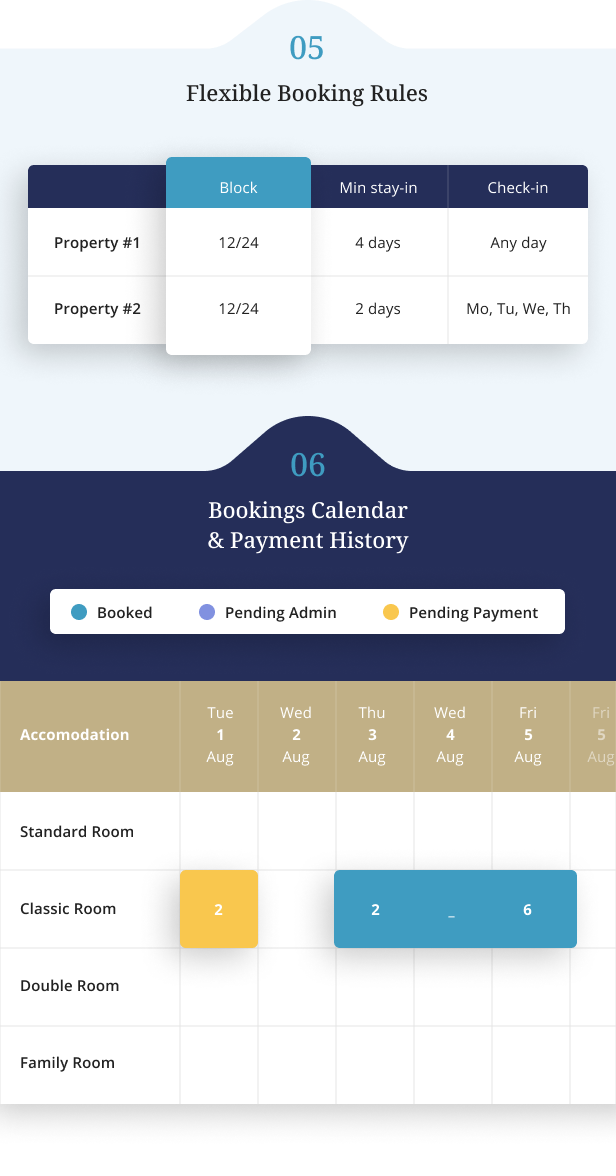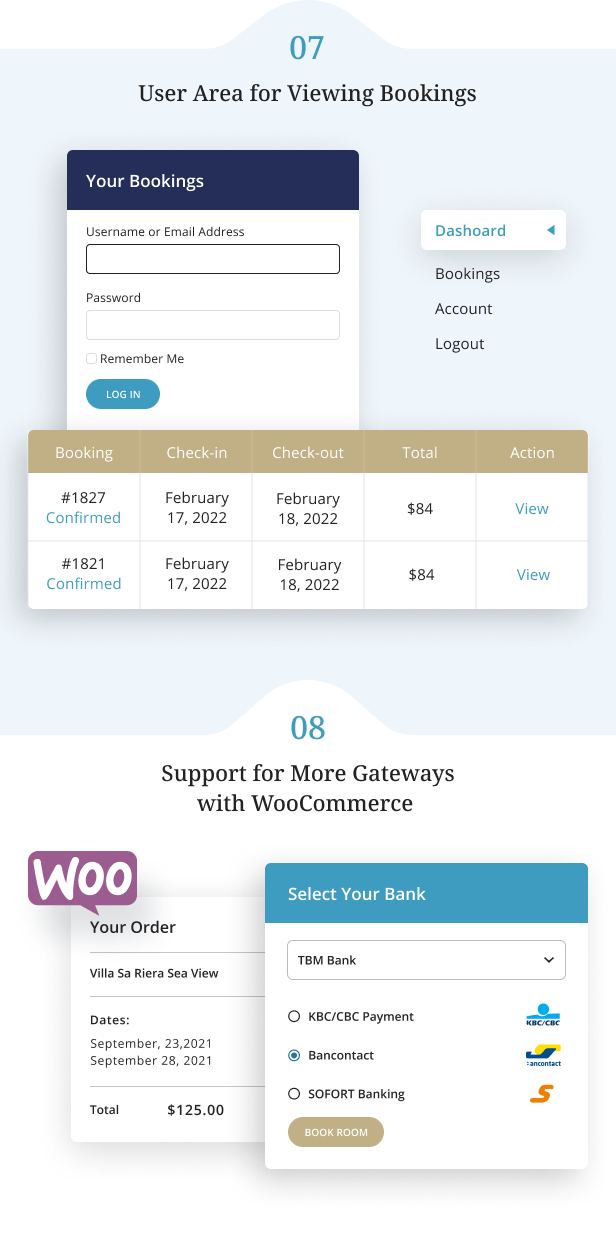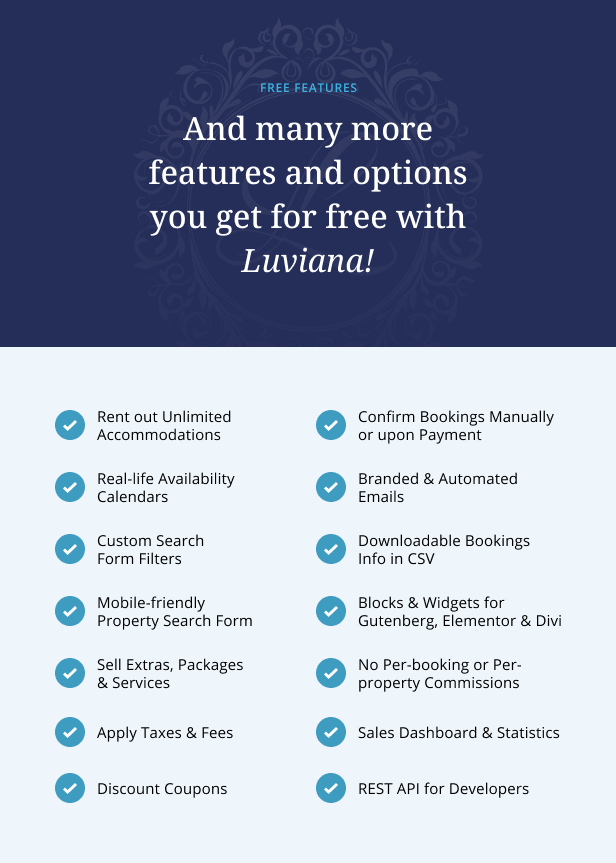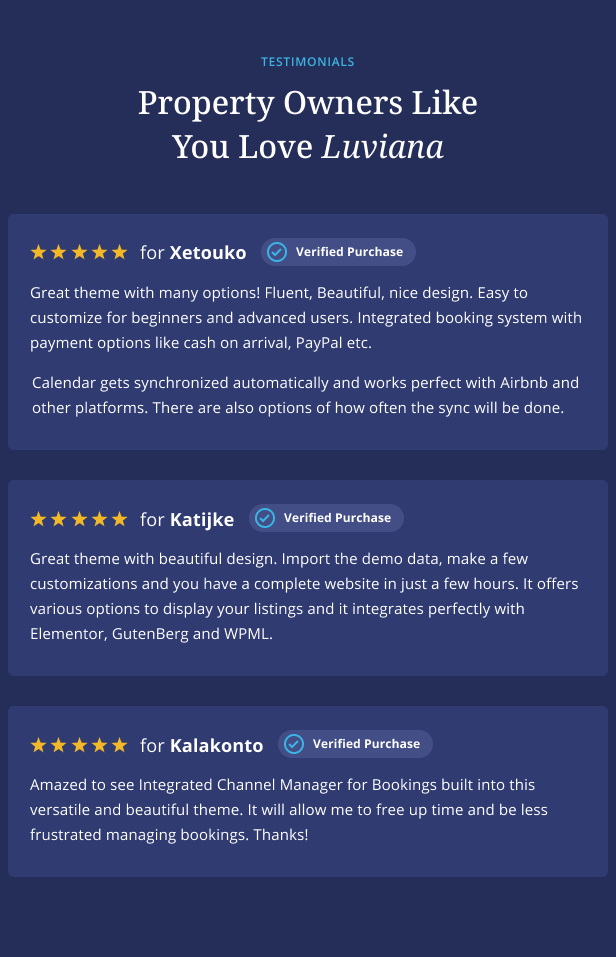 WordPress Blocks Theme
The Luviana Hotel Booking WordPress theme works seamlessly with the WordPress block editor and is built from the ground up for these new WordPress editing experiences. Take the best advantage of the new default editor and build a site for your hotel with no coding involved.
Powered by the Getwid Addon
We built this hotel booking theme for WordPress using the Getwid WordPress Blocks plugin – a free library of additional blocks for the block editor created by our team. Some of the blocks provided by Getwid include such popular ones as Banner block, Image Slider block, Advanced Heading block, Testimonial block, Instagram Feed block, Image Hotspot Block and many more. You are free to use the extra blocks too and easily customize the look of any page or post visually in the block editor.
Custom Gutenberg Blocks for Hotel-related Content
We created custom blocks to adapt the Hotel Booking plugin for the Gutenberg Block Editor. They enable you to add and edit rooms, the search form, calendars, services and more property-related content visually in the core WordPress Editor, without shortcodes.
List and Grid Room Layouts
The Luviana hotel booking WordPress theme is pre-packed with different room layouts to help you choose the most suitable one for your property types. You can go with rather classic list layouts, more fancy boxed layout or a columnized minimalist view. The switch is a breeze!
Full and Fixed Width Websites Layouts
Luviana offers several layout modes: the full-width layout allows your content to automatically span the whole width of your screen and creates an immersive UX, while the fixed-width website layout is great for keeping a default structure all the time.
Full-width Video Header
The front-page image slider of the Luviana Hotel Booking WordPress Theme can be easily transformed into a header video or an image slideshow with a video. You can upload your video and set it as a first slide via the WordPress Customizer – it'll ensure your slideshow or introductory video is not just beautiful but also optimized for better performance thanks to the native WordPress reliance.
Change the Default Color Scheme
By default, you can modify a header text color and a default background color. If you want to completely alter the color scheme of the theme, feel free to change accent colors responsible for buttons and widgets as well as secondary colors for button hovers and decorative elements.
Integrated Online Booking System
No more per-booking commissions or subscription fees: create a directory of your hotel rooms on your own WordPress site and let your guests book them directly from you thanks to the integrated WP Booking system. You get full control over your hotel reservation system and are free to set any pricing or custom booking rules.
Customizable Property Search Form
Guests can search through all rooms via a dedicated search form, which includes four default fields: arrival/departure date, the number of adults and children. Feel free to shorten it to the check-in and check-out only, rename 'Adults' to guests, remove the 'Children' field only, state the age of children, etc.
Every room comes with an individual availability calendar, which displays up-to-date information automatically.
Amenities, Bed Types & More
The plugin allows you to add and categorize various data of your properties, including amenities, bed types, view, available services as one database and then assign them to needed accommodations that contain these amenities. To better showcase your property, include a photo gallery and any presentation tours!
Add Any Search Form Fields
You can extend the property search form with any number of your own search fields (location, room type, etc.) to allow your guests to perform a more tailored property search. The same values you add as search fields can be used to display as extra details in the accommodations directory.
Automated and Manual Booking Confirmation
Choose among three ways of processing incoming reservations:
allow for automatic booking confirmation upon payment;
automatically send emails with booking confirmation links to your guests;
review and approve/decline bookings manually from the back-end of your site.
Online or After Arrival Payments
Let your guests securely pay online or upon arrival. Online payments are handled via 6 reliable payment gateways: PayPal, Stripe, Beanstream/Bambora, Braintree and 2Checkout. Additionally, Stripe processes payments via Bancontact, iDEAL, Giropay, SEPA Direct Debit and SOFORT.
You can optionally purchase our custom WooCommerce Payments addon to enable many more local gateways available through WooCommerce without any tech help, simply in a few clicks.
Bookings Calendar
To easily view all bookings in a handy calendar format, there is a dedicated Bookings Calendar menu. It allows you to see color-coded past and upcoming reservations, filter them by statuses and dates, and more. You can also allow particular staff members to see only calendars, without full access to the site.
Custom Room Rates, Deposits and Discounts
The pricing system is deeply flexible. Charge different prices based on:
Specific room type conditions (non-refundable, breakfast included).
Any custom season (summer, weekends, Christmas, etc.).
The length of stay (weekly, monthly or other customizable terms).
Custom discount coupons (fixed value or percentage).
Monetary or percentage deposit payments are available.
Charge Taxes and Fees
Be upfront with your customers about all taxes or service charges you collect. With the built-in reservation system of the Luviana theme, you can create taxes or fees with custom names and display them in the booking price breakdown table on checkout, invoices, emails and other reporting data.
Earn More with Extras
Offer extra packages and services to increase the sum of each check. The system allows you to charge guests per accommodation or person; once or per night. You can entice guests to buy more extras by featuring them at checkout and anywhere on the website. You may also offer any service for free!
Integrated Channel Manager for Bookings
Encourage direct bookings but don't ignore OTAs! The built-in iCal sync support lets you update availability of your rooms across multiple channels, so if your hotel is listed on external booking platforms like Expedia, Booking.com, Airbnb or similar, you can rest assured you'll be protected from double reservations. Furthermore, you can sync reservations to external iCal-based applications of Google and Apple Calendar, which is super handy for keeping your staff updated on bookings.
The two-way sync process (of your website with third-party platforms) can be both automatic and manual.
Effortless Bookings Management
As a hotel website manager, you are provided with multiple ways to handle bookings:
View current and forthcoming reservations in a calendar format.
Track Payment history and all logged actions of each booking.
Optionally add reservations manually from the dashboard.
Record payments manually upon guest's arrival.
Request the remaining balance automatically prior to guest's arrival to secure their booking (requires a paid add-on).
Edit original bookings (e.g. switch rooms, edit arrival and departure dates, etc.)
And more!
Booking Buffers & Bookings Window
Thanks to the advanced reservation rules possibilities, you can better automate the process of taking the properties out of booking based on specific guest-driven actions. For example, you can add extra time as a buffer to the already booked dates to perform some cleaning or sanitizing procedures before guests arrive or after they leave.
Multiple Bookings at One Go
Allow one guest to book multiple accommodations during one checkout. The WP hotel booking plugin pre-integrated can also be set to recommend the best set of accommodations based on the number of people, so it's going to be a really quick process for your clients!
Edit Existing Bookings
It's to switch a room, dates or services for a client who's requesting a change! You can edit already registered bookings in multiple ways, thus answering your guests requests and at the same time keeping all your site records up to date!
Payment History & Customers
There are a few dashboard menus where you can see and edit customer details, payment transactions and more. You can allow for customer accounts that will assign all bookings to the same customer's email address or user ID, thus allowing you to identify loyal customers.
Export Bookings Data in CSV
Take your booking data with you! The 'Reports' plugin menu allows you to export bookings data in the CSV format (a spreadsheet document) selectively: you can either import everything or include only individual booking details before importing them (by the Accommodation type, booking status, etc.).
Block Rooms and Dates Selectively
The "Booking rules" menu allows you to designate default available check-in and check-out days, minimum and maximum days to stay and optionally disable booking option for selected properties for a certain time frame.
Sales Dashboard
The plugin is packed with the analytics and sales dashboard that allows you to track how much you've earned, all this data is shown in visual representation. You'll also have details on what your revenue is after taxes, your services revenue, and more. The live charts are easy to read and filter data!
User Accounts for Guests
If you want guests to have personal accounts where they can view their bookings or speed up all the further reservations with pre-populated info, it's quite doable. You are free to enable the plugin to create those accounts automatically at checkout or let guests to opt in for them.
Restrict or Grant Hotel Staff Access to Your Site
It's easier to manage the team with flexible access settings to your website. Let some people only view the bookings calendars and give others more administrative privileges, for example, for editing client data or changing bookings info.
Bookings Logs & Notes
To simplify all your interactions with every client, you can leave logs and messages for other team members as for each booking and client. Keep notes, records and history of hosting every guest!
Hotel Booking REST API for Developers
WordPress developers that want to bring Hotel Booking plugin's experiences to other external platforms, can easily use dedicated Hotel Booking API code that is built on top of the WordPress REST API, which ensures secure and robust code for seamless functioning in any application.
GDPR Compliant
At checkout, all booking forms are supplied with the checkbox for opt-in consent to follow GDPR regulations. Clicking the checkbox, guests accept your website terms and conditions before making a reservation.
Quick Setup with One-Click Demo Import
Get the theme's sample data installed on your site automatically with a one-click demo importer that comes along with this WordPress hotel template. We've made sure your hotel website will look as beautiful as in the default Luviana demo.
WPML Compatible (Certified)
Want to have a website in different languages? We've got you covered: the Hotel Booking plugin works smoothly with the top used WPML plugin for creating a multilingual website. You can also use any other free or premium WordPress translation plugin of your choosing.
More Luviana WordPress Hotel Theme Highlights
Responsive and mobile-friendly hotel booking WordPress theme.
2 websites layout modes: full width and wide width.
4 menu locations, including all social icons.
Ready-to-go restaurant page layout.
Pre-made WordPress Getwid blocks for any need to customize your website: Testimonials, Team, Galleries, etc. you might need on a hotel site.
2 blog layouts: classic one-column and grid.
Support for various post formats.
Newsletter subscription form via Mailchimp.
Back to Top of the page button.
SEO-optimized template markup.
Cross-browser compatible.
Retina ready.
Translation ready.
WPML compatible.
Extensive documentation for both the theme and the booking plugin.
Fully supported: ticket system, live chat, email.
More features of the built-in WordPress hotel booking plugin
Premium best-in-the-niche MotoPress WordPress Booking plugin included for free!
Perfect for a single property, a hotel with multiple rooms, or a single owner who has multiple properties.
Real-time availability calendar WordPress.
Real-time property finder form.
Seasonal and variable pricing for accommodations.
Tags and categories.
Nightly, weekly and monthly rates.
Pre-bookable extra services and packages.
Personalized discount coupons.
Admin and customer email templates.
Automated booking status changes.
Logs and admin notes.
Reservation of multiple rooms during one booking session.
Payment history and customers database.
Any currency.
Shortcodes, widgets and support for popular page builders, including the native block editor, Elementor, and Divi, which ensures you can edit the Luviana hotel booking theme in any editor you choose.
Free video tutorials on YouTube.
Translated into 14 languages.
Several premium extensions for the Hotel Booking plugin to add specific functionality: reviews, request balance payments prior to check-in, etc. (requires additional purchase).
Optimized for Elementor and Divi Builders through free add-ons.
Premium Extensions for the Hotel Booking plugin [not included into the theme]
Ability to add more region-specific payment gateways with the WooCommerce Payments add-on
Hotel Booking Payment Request add-on to automatically request balance payments prior to arrival.
Hotel Booking Reviews add-on to integrate functionality for guest-generated property reviews and ratings.
Mailchimp Integration addon to automate email marketing for your site.
Event-driven Notifications addon to send out more types of custom automated emails.
PDF Invoices addon to set up automated invoices.
Checkout Fields editor addon to customize the checkout experience for bookings.
Multi-currency addon to allow guests to view property prices in a different currency.
Changelog

= 1.4.2, Feb 10 2023 =
* Hotel Booking plugin updated to version 4.6.0.
    * Added the possibility for clients to select the check-in and check-out date directly in the availability calendar.
    * Added an error message to the booking form to notify clients when an accommodation ID is not found.
    * Added coupon settings for early bird and last minute discounts.
    * Added the possibility to view the information about imported bookings in the admin calendar after clicking on a particular booking.
    * Added the price display in the availability calendar for non check-in dates.
    * Limited the number of adults and children selectable in the form to match an accommodation's capacity for bookings directly from the accommodation page.
    * Removed the maximum limit for the adults and children capacity in the variable pricing rate settings.
    * Fixed a database bug related to customer and user data selection.
    * Fixed an issue with assigning an accommodation type upon the accommodation creation.
    * Fixed an issue with calculating prices in the availability calendars for overlapping seasons.
    * Improved the plugin compatibility with PHP 8.2.
* Minor style improvements.

= 1.4.1, Jan 17 2023 =
* Improved compatibility with PHP 8.

= 1.4.0, Dec 5 2022 =
* Hotel Booking plugin updated to version 4.5.0.
    * Added support for displaying prices in the availability calendars of individual accommodations.
    * Added the ability to create a percentage fee, which applies to the accommodation cost.
    * Improved the color-coding for dates in the availability calendar to better show days unavailable for check-in or check-out. Note for developers: This update might affect styles of the availability calendar in your themes or projects. Please update your code.
    * Improved the color-coding for dates in the admin calendar to better show booked and blocked days.
    * Fixed an issue with selecting a check-out day on a day that is not allowed to stay.
    * Fixed an issue with the session data security.
    * Optimized the asset loading in the admin panel for REST API.
    * Fixed an error of creating coupon codes in REST API.
    * Fixed an error with the availability search when one of the accommodations was blocked. Applies for REST API and the mobile app.
* Minor style improvements.

= 1.3.0, Sep 13 2022 =
* Hotel Booking plugin updated to version 4.4.1.
    * Implemented REST API. This will give developers more extensive control over the plugin data, help integrate third-party services, and build new frontend experiences for Hotel Booking in WordPress.
    * Added the new Hotel Manager and Hotel Worker user roles that define access to the Hotel Booking plugin settings and menus. Note: you might need to change user roles you used before this update.
    * Added the user area for customers that allows them to log in, view bookings and speed up reservations with pre-populated info at checkout. Website admins can set the plugin to create user accounts automatically or let customers create ones manually.
    * Improved booking export report.
    * Improved backend booking calendar.
    * Improved support for several Hotel Booking addons.
    * Fixed several translation related issues.
    * Fixed an issue with dates being available for selection while direct booking despite not check-in or not check-out booking rules are applied to certain accommodation types.
    * Fixed an issue with defining the number of blocked accommodation types within certain booking rules.
    * Fixed an issue with the maximum stay rule of specific accommodation type that was also applied to other accommodation types.
    * Minor bugfixes and improvements.
* Minor style improvements.

= 1.2.4, Sep 24 2021 =
* Added the Getwid plugin to the theme package.

= 1.2.3, Aug 9 2021 =
* Hotel Booking plugin updated to version 3.9.10.
    * New feature: added the option to display information about tax and fee charges additionally to the base property rate on the frontend.
    * New feature: the revenue chart (beta version).
    * Added a new payment status Canceled.
    * Added the ability to enable a two-step booking cancelation process that requires users to confirm their booking cancelation request on the external page.
    * Added the ability to disable booking rules when adding bookings on the backend manually.
    * Added a new color for the external bookings in the Bookings calendar.
    * Improved the user experience with the calendar datepicker on mobile devices.
    * Fixed an issue with displaying the number of bookings for secondary language versions in the WPML plugin.
    * Added the ability to sort accommodations by price in the accommodations listing.
* Minor style improvements.

= 1.2.2, Mar 12 2021 =
* Added a header layout variation for the Accommodation page.
* Added the ability to turn on a sticky menu.
* Added the "back to top" button.
* Hotel Booking plugin updated to version 3.9.5.
* Added the ability to set the Booking Buffer option.
* Added the ability to set Advance Reservation: the minimum number of days allowed before booking and the maximum number of days available for future bookings.
* Added the ability to resend the confirmation email for a booking.
* Added the ability to create internal notes for a booking visible for site admins only.
* Added the ability to edit existing bookings: you can now update check-in and check-out dates, rates, services, etc., as well as add, replace, or remove accommodations in the original bookings.
* Added the ability to set the number of days prior to the check-in date applicable for applying deposits.
* Stripe API updated to version 7.72.0.
* Improved compatibility with the image lazy-loading feature.
* Bug fix: fixed an issue that may cause errors in Sucuri and WP Mail SMTP plugins.
* Bug fix: fixed an issue with payments via Stripe when amount of transaction was not calculated properly.
* Bug fix: fixed an issue when an accommodation became unavailable for assignment to its accommodation type after renaming.
* Minor bugfixes and improvements.

= 1.2.1, Jan 15 2020 =
* Improved the front-page slideshow performance.

= 1.2.0, Jan 13 2020 =
* Added the ability to setup video as a first slide for front-page slideshow.
* Added the ability to change primary colors.
* Minor bugfixes and improvements.

= 1.1.0, Nov 18 2019 =
* Added ability to setup front-page slideshow settings in Customizer.
* Added editor styles for Hotel Booking editor blocks.
* Minor bugfixes and improvements.
* Hotel Booking plugin updated to version 3.7.1.
* Improved blocks compatibility with the new versions of the Gutenberg editor.
* Added customer email address to the Stripe payment details.
* Fixed an issue where the price breakdown was not displayed in the new booking emails.
* Fixed an issue at checkout when coupon discount was not applied to the total price at the bottom of the page.
* Fixed a bug concerning impossibility to complete Stripe payment after applying the coupon code.
* Fixed an issue where the type of the coupon code was changed after its use.
* Improved the "Booking Confirmed" page with regard to displaying information on client's booking and payment in case the booking is paid online. Follow the prompts to update the content of the "Booking Confirmed" page automatically or apply the changes manually.
* Added the new email tag, which allows guests to visit their booking details page directly from the email. Important: you need to update your email templates to start using this functionality.
* New actions and filters were added for developers.
* Fixed the issue at checkout when a variable price was not applied if capacity is disabled in plugin settings.
* Added Direct Bank Transfer as a new payment gateway.
* Added the ability to delete ical synchronization logs automatically.
* Added new intervals for importing bookings through the ical "Quarter an Hour" and "Half an Hour".
* The user information is no longer required while creating a booking in the admin panel. You can enable it again in the settings.
* Added new tags for email templates: Price Breakdown, Country, State, City, Postcode, Address, Full Guest Name.
* Added the ability to select the accommodation type while duplicating rates.
* Improvement: now if the accommodation type size is not set, the field will not be displayed on the website.
* Implemented bookings synchronization with Expedia travel booking website.
* Updated PayPal and Stripe payment integrations to comply with PSD2 and the SCA requirements.
* Added the ability to receive payments through Bancontact, iDEAL, Giropay, SEPA Direct Debit and SOFORT payment gateways via the updated Stripe API.

= 1.0.0, Jul 23 2019 =
* Initial release.