Description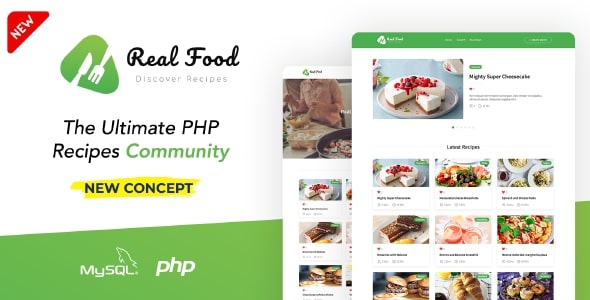 RealFood is a powerful php script with a modern UI/UX design, smart functions that will help you create an amazing cookbook or global recipes site. RealFood script works perfectly on mobile, tablet, and desktop, which can help you to create a professional website as Recipes Listing, Fitness Diets, Community Food. RealFood it also allows users to upload their recipes and share them with other users. RealFood is highly customizable and super-easy to set up.
Such as popular food website:
Tasty.co / Allrecipes / Yummly / Cookpad / YoRipe
Demo
Main Features
Built on Pure Php & Mysql.
Beautiful design with best-optimized UI/UX.
Easy Translation Localize your website to any language using WP Dashboard translation
Save Favorite Recipes: A recipe can be saved to favorite to be seen later.
Search: Users can search for recipes, members easily.
Filter: The recipes list can filter by recipe category, title.
Likes and Comments: Users can like and comment recipes.
User Login: Users can log in by email/password
Friendly User Dashboard: where Recipes, Pages, Users, Comments, Ads, Site Settings, Theme Options can be easy manager.
SEO ready: Best SEO practices included will help you climb the Google search ranking.
Security:The system is highly performant and protected against SQL injection, XSS, CSRF, and other attacks.
Newsletter Subscription.
Invisible reCAPTCHA.
Awesome Icons.
Responsive for all devices.
Easy Documentation.
Easy Customization for developers.
One time purchase fee.
Professional developer support.
Maintenance Mode
RTL Support
And More…
Admin Panel
100% Secure & Dynamic.
3 Roles (Admin, Editor, User)
Responsive Web Admin
Gorgeous Dashboard.
Full Management of Recipes.
Full Management of Pages.
Full Management of Categories.
Full Management of Difficults.
Full Management of Ads.
Translation manager
Easy to Search Recipe.
Datatable (Server Side Processing)
About Us Page Management.
Website Title management.
Website Logo management.
Email System Management.
Package Content
Full web source code
Full Admin Panel source code
Documentation
Demo Data SQL File
Any Questions?
If you still have any questions or doubts, please feel free to Get In Touch. We will be happy to assist you.
Changelog
Version 6.0.0 (31/03/2023)

- Fixed: edit page issue

Version 5.0.0 (01/01/2023)

- Fixed: issue on functions.php

Version 4.0.0 (04/02/2022)

- Fixed social sharing image
- Updated: Phpmailer
- Added: RTL Support

Version 3.0.0 (05/08/2021)

- Fixed delete user issue.

Version 2.5.0 (31/07/2021)

- Fixed youtube modal video.
- Fixed header search issue.

Version 2.2.0 (3/07/2021)

- Fixed members pagination.
- Fixed forgot email notification.
- Fixed welcome email notification.

Version 2.1.0 (30/06/2021)

- Fixed meta description limit.

Version 2.0.0 (24/06/2021)

- Release of the new react native mobile app.
- Fixed duplicates replies in comments section.
- Fixed ingredients and instructions limitation characters.

Version 1.6.0 (17/06/2021)

- Fixed the error of the video id and the video is not displayed when the ID field is empty in Recipe Details.

Version 1.5.0 (08/06/2021)

- Fix Members Page Grid View
- Add "Serv." string in Home Page Slider
- Css Minor fixes in Recipe Details
- Add placeholder in User Details search input.

Version 1.0.0 (1/06/2021)

- First release