Description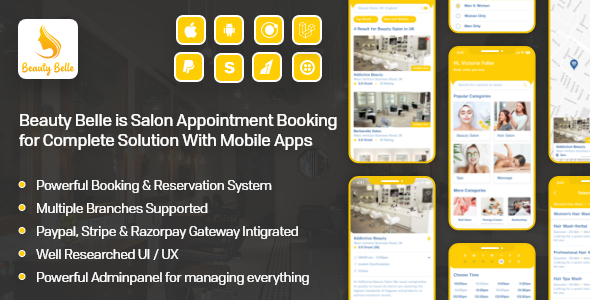 Demo APK Login details
email: [email protected]
password: 123456

Admin panel Login details
email: [email protected]
password: secret


Latest Update : 12-05-2021
Version V2.0
Updated Minor Bug Fix (Check below for log)


#1 Spa salon and barber appointment booking and management system with secure and robust code with hybrid mobile apps for android ios system.
Note : If you need multiple language support and RTL support please buy the extended version only.
Meet the #1 Software for Salons and Spas for your business
Simple, flexible and powerful booking software for your spa salon business, it's totally FREE! After One time purchase.
Beautybelle is spa salon appointment booking app with adminpanel build on hybrid ionic framework called IONIC Framework.
For backend we used laraval framework.
List Of Screens :-
signin
signup
forgot password
set new password
home
appointment
profile
saloon list
map with saloon
saloon detail
select time slot
select service
confirm booking
payment
booking confirm
booking detail with review
favorites
settings
change password
policy
edit profile

https://beautybelle.saasmonks.in/login

[email protected]
secret

Other products you may love
Change log

- fix issue while updating password in admin panel
- fix issue in admin panel if there is no record in database
- fix issue in user app about missmatch of employee id
- fix issue rejected and upcoming booking are not showing in admin