Description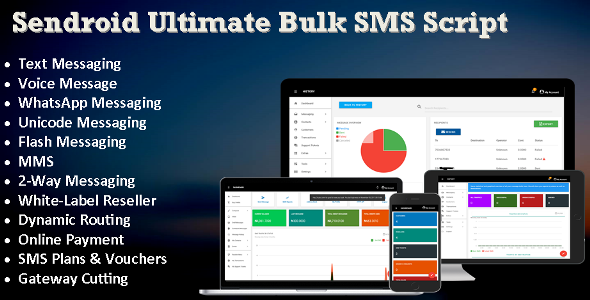 The Ultimate Bulk SMS Portal with Every feature you will ever need for your Bulk SMS Business!
Sendroid Ultimate is a bulk SMS portal software and SMS reseller tool designed for bulk SMS service providers, SMS resellers and bulk SMS marketers.
Sendroid Ultimate offers complete messaging solution including support for Text Messaging, Voice Messaging, WhatsApp Messaging, Unicode Messaging, Multi-media Messaging (MMS), Flash Messaging and 2-Way Messaging with SMS Chat.
In addition to its super Responsive User Interface and Rich Graphics, Sendroid Ultimate is built with amazing tools and features like; SMS Chat, White-Label Reseller System, Spam Control, Content Filtering, Dynamic/Static Sender ID support, SMS Gateway Cutting, SMS Gateway Hour Limits, Dynamic Routing, Short-code Reselling, SMS Plans, SMS Vouchers, Facebook Login, reCaptcha, Robust APIs and a lot more tools designed to fit perfectly into any bulk SMS business, irrespective of your business model.
Sendroid Ultimate is available in 3 Languages; English, Hindi and Arabic. You can easily translate to any other language using the included language file.
Sendroid Ultimate is scale-able, flexible, and developer friendly. You can expand the features on Sendroid Ultimate by installing additional modules, payment gateways, SMS gateway, Language packs and plug-ins.
Sendroid Ultimate supports SMPP v3.4 and works with a wide range of HTTP APIs with support for both POST and GET HTTP request methods, with or with basic authentication or JSON encoded requests, and has a defined success response. It comes pre-installed with Twilio and Infobip gateways. (We are always adding new SMS modules on the sendroid webpage)
The most interesting part is that with all these rich features and vast functionalities, installing setting up Sendroid Ultimate is done in a few clicks.. Thanks to the in-built easy to use installation wizard.
Looking for a WhatsApp gateway provider?
Check out some available Sendroid Ultimate WhatsApop modules for this good providers at Sendroid Ultimate Marketplace.
You will need to sign-up an account with the provider to use any of our WhatsApp modules
How It Works?
Whether you own a bulk SMS business, want to start reselling bulk SMS services or simply want a system to manage your bulk SMS marketing campaign, Sendroid Ultimate provides you all the software interface and features you need to smoothly and quickly integrate and interact with message gateway or provider and even more
Here is how the system works… a picture is worth a thousand words afterall
Main Features
Here is a list of just a few of the features that makes Sendroid Ultimate the best Bulk SMS Portal script in the market;
Super Responsive User Interface Design
Automatic Updates
SMPP & HTTP Support
Advanced Job Management and Massage Queuing
Expandable & Customizable via Add-ons and Modules
Dynamic message routing system with multiple gateway support
SMS Chat (Pro license)
White Label Reseller System (Pro license)
Message Scheduling with Repeated Scheduling feature
Support for Credit or Unit billing models
Online Payment Gateway (PayPal, 2checkout, Stripe, PayStack, GTPay, etc)
Friendly SMS Gateway API Integration wizard
Multiple Currency Support
Installable Modules & Ad-dons
SMS Rate Management
SMS Route Selection from Message Composer
SMS Gateway Cutting technology
Customizable Source-code (terms and conditions applies)
Facebook Login
Graphical Reports
Import Customers from Excel
Create Custom Customer Fields
Excel Data Export
Address Books and Marketing List with Opt-in and Opt-out Auto-responder
Birthday Messaging to Address-book Contacts
Sell Contacts to Customers (Pro license)
Address Book Sharing
Number Blacklisting
HTTP APIs (Pro license)
Inbuilt Support Ticket Tool
SMS Reports
Sender ID Management
Dynamic / Static Sender ID support
Short-Code Reselling Tool
Mass Email Messaging Tool (Pro license)
Spam Control and Content Filtering (Pro license)
SMS Plans and SMS Vouchers
Dynamic SMS Routing System
Full System and User Activity Log
Unlimited Customers and Resellers
Credit Sharing
Customizable Email and SMS notifications
Automatic Backups
… and many many more feature. We just can list them all. Its best if you see for your self by using the Online Demo Here.

Please note that all features marked with "Pro License" are only available with a Pro License.
Still can't find the feature you are hoping for? No worries… Sendroid Ultimate allows you to build just about anything you want and add to it inform of add-ons.
Also note that Pro License is required to remove any Footer Branding from the script. License Agreement
Check out collection of our video tutorials at https://www.youtube.com/playlist?list=PLTSubR_MEza8di-uZxGsgAsYlnxyBb9iI
System Requirements
Linux or Windows OS
Apache
PHP Version 5.6 – 7.2 (7.2 recommended)
Cron Job
cURL Support
ZIP Archive Perl Module
Multibyte String Extension (mbstring)
JSON Support
ionCube Loader 10 or higher (Latest Release recommended)
PHP Memory Limit: 512 MB or higher
MySQL Version 5.6 or higher (MySQL Strict Mode disabled)
Dedicated IP required for White-label reseller system
An SMS Provider's API
Please note that your Sendroid Ultimate may not function correctly if any of these requirements are not met by your server.
Get the most out of Sendroid Ultimate with these add-ons!
Support
We do our best to make sure our scripts are bug-free and to assist all our customers and buyers. If you see anything strange, confused about something or have any challenges, please Use the Support Link to contact us or open a support ticket at https://my.ynetinteractive.com/submitticket.php?step=2&deptid=7. WE are always ready to assist you.
We may also offer support through our live chat, depending on the nature of your request. Please note that all Envato support terms applies.
Please Note that our support services are available 8:30am – 6:00pm from Monday to Friday. Please bear with us if we are not able to attend to your request in time on on weekends.
Remember to read the Quick Start Manual before you start using Sendroid Ultimate.
Change Log
Detailed change log is now available at http://sendroidultimate.com.ng/changes.php
About Support
Need help? Please click on the Support tab to access our dedicated support platform.
Our support service is available Monday – Friday, 8:30am – 5:30pm Nigeria Local Time… We do our best to assist
Looking for a WhatsApp gateway provider?
Check out some available Sendroid Ultimate WhatsApop modules for this good providers at Sendroid Ultimate Module Store.
You will need to sign-up an account with the provider to use any of our WhatsApp modules